New Book: The Little Book for Really Really Brilliant Grandparents
Main index page
We are delighted to announce our latest book to be released, the little book for REALLY REALLY brilliant Grandparents! This is the latest in our 'Really Really' series, little books with collections of sage advice coupled with fantastic illustrations. We think this is such an appropriate time to be bringing this book out to the world.
The role of a grandparent is unique to family life. The warmth and joy they provide is uncomplicated and unlimited by the normal boundaries of parental responsibilities – they get to spoil their grandchildren to their heart's desire. Yet this year grandparents have also suffered greatly, with government-imposed lockdowns preventing thousands of grandparents (new and old) from seeing their loved ones.
Now with the lowering of restrictions over the Christmas holidays, we are given a glimpse of hope to be able to reconnect with our families. Once more, grandparents will have the opportunity to pour out their love, encouragement and generosity – in whatever form – to those they hold dear. However, as we readjust to an ever-changing world, it is crucial to give support and encouragement to all those on their grandparent journey.
Rob Parsons OBE and Katharine Hill – both grandparents themselves – have teamed up once again to bring this light-hearted collection of quotes, and sayings, with illustrations as always from the fabulous David McNeill. Offering ideas, strategies and practical tips on this vital role within the family, this book is an ideal gift for any grandparent (or for yourself!) in these strange times. We are so thrilled to have the opportunity to work with them again and we hope you will love reading this book as much as we have enjoyed putting it together!
Since you're here, please let me remind you of the other two books in the series, The Really Really Busy Person's Book on Parenting and The Really Really Busy Person's Book on Marriage, both by Rob and Katharine, and both equally insightful, engaging, and humorous in equal measure. Be sure to check out the books below if you haven't already!
In her book Left to Their Own Devices?, the UK director of Care for the Family, Katharine Hill, aims to help parents feel confident about raising their children in the digital age.
She tells me about the concerns that led her to write it: 'Smartphones and online devices are good in that we use them to keep connected with our family, we have access to information at the touch of a screen and there are games and resources which are great for children – but there are also massive dangers. Even if our children don't have a smartphone, their friends will. Young people are facing problems with pornography, internet addiction, sexting, grooming, cyberbullying and the struggle to find their worth and identity on social media. As parents, our job is to teach them how to be safe in a digital world, just as we teach them how to be safe when crossing the road.'
Katharine explains that before parents can help their offspring navigate the digital age effectively, they need to recognise the difference in how adults and children approach digital technology.
'By and large, most parents are digital visitors,' she says. 'They visit the internet to do a task, such as online shopping or sending an email. Once the task is done, they log off. But the younger generation are more likely to be digital residents. They have grown up with digital technology and 24/7 access to the internet, so their whole life becomes caught up in it. It's possible to be a digital resident safely, but the worry for parents occurs when they fall behind their children and fail to keep up with their digital knowledge.'
When it comes to problems such a sexting, porn and internet addiction, Katharine believes that there are two main reasons why some young people end up making unwise choices.
'Scientists have discovered that, in a teenager's brain, the prefrontal cortex is still developing – and that's the part that enables a person to defer instant gratification for long-term gain. It's sometimes called the "moral policeman", because it helps us to make sensible decisions.
The younger generation are more likely to be digital residents
'So, a parent might fail to understand why their teenage daughter is Facetiming her boyfriend till 3am on the night before a GCSE exam, but the reality is that the daughter probably hasn't thought through the consequences. Her brain isn't fully developed yet.
'Secondly, peer pressure is a huge factor influencing young people. If there's a group of lads gathered round a computer looking at porn, it's going to be very difficult for one of them to say no. The need for a young person to fit in and be accepted is massive.'
What, then, can parents do to help protect their children from digital dangers?
'When it comes to porn and sexting, it's important for families to sit down together and have age-appropriate conversations about healthy relationships and boundaries,' says Katharine. 'Parents need to make it clear that porn isn't real – that there is something better for their children to aim for in their personal relationships.
'It's worth talking about the fact that once something is online, it's online. If the family is having a conversation about sexting, for example, a parent could try to set out the scenario in its most basic terms, saying: "You would never stand up topless in front of your math class – so why would you send a topless photo to a boy at school, who could send it on to someone else?" We want to give our young people the confidence to say no.
'A good idea is to create a family internet or media agreement. That means setting out some clear rules about what is and isn't allowed in the home. Some questions worth considering are: Where and when do we use our devices? In our bedrooms? Only after homework? Where do we charge our phones – downstairs overnight? It's important that the rules are age-appropriate and reflect our family's values, not the values of our children's friends.'
Despite the best efforts of parents to ensure the online safety of their children, there are still times when young people make mistakes. In such cases, Katharine urges parents to stay as calm as possible.
The need to fit in and be accepted is massive
'Let's say our child has been sexting. Our initial reaction is to be mad – but that's not helpful,' she says. 'We need to listen, keep calm and reassure them that we will help them to deal with any consequences. We all make mistakes – but they need to know that we will be there to support them, whatever happens.
'Navigating a digital world as a parent can be a bit of a minefield, but it's not hopeless – we have everything to play for. No one knows our children as we do. We are the greatest influence on our child's life. It's down to us to equip our children so that in a world of unlimited possibilities, they have the strength of character to make good choices.'
This article was originally published in The War Cry UK, November 2018 
'Left to Their Own Devices?' is a really good book. I don't say that very often!
It's also a very sane book! My children are in their 30s. When they were young, the Internet hardly existed and a screen, such as they were, was primarily the television.
So this book is such an important title, especially for families who are struggling with their children's time on screen.
'Struggling' is not the wrong word – every day appears hard, and it's clearly a battle to stay on top of where kids may be going next on-screen. Yet the book is clear; 15 chapters and all fairly short. It's practical and there are great cartoons throughout the text (thanks to illustrator, David McNeil).
When we meet parents on our Care for the Family events, questions concerning how to help their children navigate the world of technology leave all other topics in the shade. Many parents feel anxious and bemused.
The book aims to take struggling parents through to 'confident' parenting. Quite a claim, isn't it? Even toddlers are often well ahead of parents when it comes to dealing with screens. How on earth do you stop what is happening in your family? What are the ground rules to apply?
This is a big subject, and one which will continue to concern us well into the future, I'm sure!
It struck me reading this title, that digital technology presents a remarkable aspect to our children's lives, and yet one which can go so horribly wrong. I'm glad that I'm older, can look back as a grandparent, and not have to deal with all that our own children are trying to handle.
Above all, we should pray that God will help all parents work through some of these complicated issues.
When was the last time you heard someone speak on this subject in a church?
The Book – Chapter by Chapter
FACT – Did you know that Twitter was invented just over 10 years ago?
Chapter 1. There are three core issues: Content (what children see online), Contact (who they are talking to online) and Conduct (how they behave online). Katharine Hill points out that digital visitors, i.e. many parents, and digital residents (most of our offspring) occupy quite different areas of life.
Chapter 2 reminds us that technology can be as a lifesaver in the home. Being in touch is a great advantage. Software allows us to contact people around the world. It's not all bad, and we should remember this.
Chapter 3 mentions 'authoritarian' parents where children may feel hemmed in and suffocated, 'permissive' parents where children have no security and then 'assertive' parents with a firm but fair style. Which one are you?
Chapter 4 looks at 'too much screen time'. The big issue! A real battleground in many homes, and the source of many confrontation and rows.
From Chapter 4 onwards, there is a section, 'What can parents do'? Katherine Hill's advice in these areas is simply brilliant for all parents.
Chapter 5: The issue of online and off-line relationships.
Chapter 6: Everything children do is online!  The 24/7 'always all' culture means that our children have no time to be 'bored' or even just to 'be'.
Chapter 7: In my view, this is the best chapter in the book! Social media plays such a huge part in a child's life today, especially for teenagers. The big question here for everyone is, 'am I loved'?
Chapter 8. Pornography is everywhere, and easily available on smartphones. The sexualised culture today is the 'wallpaper' of children's lives (Bailey Report 2011). For older teenagers: watch the YouTube video uploaded by Thames Valley police to address the issues of consenting sex: 'Tea and consent'.
Chapter 9. Sexting – when someone sends sexually explicit texts of photos naked or semi naked. In 2014, 37% of 13 to 25-year-olds have sent naked picture of themselves via smartphone app. 49% believe sexting is harmless fun. Yet, sexting is illegal for under 18's and what goes online, stays online.
Chapter 10. Dealing with bullying. Now there is no safe haven, not even at home. The bully can reach their prey anytime and anywhere. One in five young people in the UK have been affected by online bullying. See www.stopcyberbullying.org
Chapter 11. Grooming is an issue to strike terror into the heart of any parent. 13 to 14-year-olds represent the largest single victim group. The anonymity of digital communication means there is huge scope for the predator. Grooming also can take place via computer gaming.
Chapter 12. In Care for the Family, the top list of concerns are – (1) worries about are too much screen time and (2) Internet addiction. Children as young as four are addicted to iPads and smartphones. This addiction can be harder to kick than drugs!
Chapter 13. Consumer culture. Today's parents have a harder job to combat pester-power than in previous generations due to the 24/7 presence of advertising to digital technology. 'These days children are under greater pressure to grow up too quickly' (Bailey Review 2011).
Chapter 14. All kinds of families and all kinds of issues. Single parents or blended families? Co-parenting across two families? These situations can be very challenging.
An observation. On page 131: Currently 14 million grandparents in the UK who provide childcare for their grandchildren and many more close contact with them.
'The reassurance that they are loved simply for who they are'.
 Chapter 15. 'Teaching them to learn to discern'.  Katharine Hill says:
We can put every protection in the universe in place, our home can be a digitally impenetrable Fort Knox with every safeguards known to man installed, but it doesn't protect our children when they are away from home.

Our role as parents is a positive one. …we teach our children to manage their freedoms well, training them from the inside out to make wise choices in a world where all choices are possible. We do this placing values in their hearts that will be the compass for their lives.
This review was first published at www.clcbookshops.com
'A good parent is someone who is realistic, prepared  to be vulnerable and doesn't take themselves too seriously,' says Katharine Hill, a mother of four and the UK director of Care for the Family, an organisation that promotes family life and helps families in difficulty. In her new book, If You Forget Everything Else Remember This, Katharine offers parents advice on how to cope during their child's primary school years, shares some of her own parenting experiences (and mistakes) and encourages parents that, on the days when they feel overwhelmed with pressures, 'good enough is good enough'.
'I think a parent's biggest challenge in the primary years is to set clear boundaries,' she says when we talk over the phone. 'Once the parent sets them, it's the child's job to test them, to make sure they're there. Boundaries are not just about discipline, they're about creating security for a child. Parents need to show their child that they love them and in a way that they understand. In his book, The Five Love Languages, Gary Chapman says that we can communicate our love to people through giving gifts, physically touching them, spending quality time with them, doing acts of service and saying words of affirmation. Our children need to see us express love for them using all those ways, but as they get older we tend to find that one "language" in particular speaks to them the most.'
Another topic that Katharine touches on in her book is the pressure to be perfect. Chapters entitled 'There's no point trying to be Supermum (or Superdad)' and 'Lay down the guilt' are designed to encourage parents to go easy on themselves.
'I want people to know that there's no way to be a perfect parent, but there are a million ways to be a great one.' 
'I think mums and dads can feel under pressure because glossy magazines present us with images of women and men with straight white teeth and skinny jeans, living in immaculate houses, and it all looks so effortless. As parents, we can look at others and so easily make comparisons. That's not doing us any favours. Yes,we should celebrate the good things we and our children achieve, but it would be better if we could also let people know about the parts of parenting that we find difficult.'
Although her children are now grown up, Katharine says that she and a group of close friends share the joys and struggles of parenting together by meeting up regularly to talk. She recommends it to parents who are feeling isolated. 'It's important for parents to find people they can be honest with,' she says. 'Being able to hear the words "Me, too" can be a real comfort. Time spent with other adults – and away from the children – can also be beneficial because it helps parents to step back a bit, get off the treadmill of packing school lunches and doing the washing and gain a new perspective. Everyone needs time out. A break from the children may be something parents have to fight for, but a bit of a rest is worth it, if it means they are less exhausted and ratty. I know that I'm a lot more patient if I've had enough sleep and I've done things that re-energise me.'
Having a break can also help parents be better at listening, which, Katharine believes, helps to strengthen relationships with their children. 'When a parent listens to their child, they are giving them value,' she explains. 'The child knows that what they are saying matters. When young children talk about situations but have a limited vocabulary, we can help them by encouraging them to express their emotions. So if there has been a falling-out in the playground, we could say: "I expect that was a bit sad for you, wasn't it?" It's important to help children develop the words to talk about their feelings. Parents also need to be ready to listen and respond at any moment. A child might come out with something important to tell their parent in the middle of bath time or story time. As parents, we have to seize those moments and go along with them.'
Through the ups and downs she has faced in parenting, Katharine maintains that her Christian faith has been a consistent source of strength. She wouldn't want to be without it. 'The way God parents us as his children is the example that I want to follow,' she says. 'Having him in my life helps me in the task. 'I believe that, as parents, we need to seize the day. Each new day is a gift and it's down to us to make the most of it.'
This article originally appeared in the April edition of The War Cry.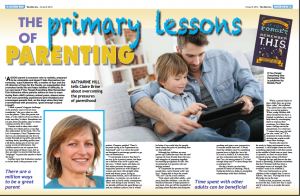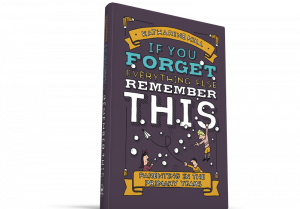 If You Forget Everything Else Remember This: Parenting in the Primary Years by Katharine Hill
From that first angelic role in the nativity play to that first love, from broken hearts and best friendships to school bullies, life as a parent is an emotional roller coaster. And amidst the practical chaos of finding swimming goggles, making packed lunches, cleaning out the rabbit hutch and refereeing sibling squabbles, many of us long for help, for a little wisdom to help us do the job well.
Here is that help! Wisdom in stories and bite-sized chapters to help navigate this challenging season of parenting and family life – sayings to read in a few minutes while waiting for the kettle to boil, to commit to memory and draw upon at a second's notice, and hilarious cartoons to bring a smile.
So put the kettle on, make a cup of tea, turn the page, and if you forget everything else as a parent, remember this…
(For more information on this book click here.)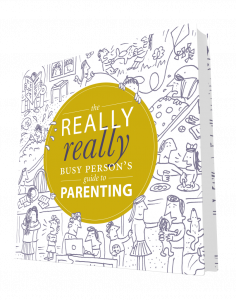 The Really Really Busy Person's Book on Parenting by Katharine Hill and Rob Parsons
As parents we live each day at such a pace. One minute we are juggling the dawn scramble for p.e. kit, packing lunchboxes and dealing with toddler tantrums in the supermarket queue and then before we know it, they are filling in job applications. Did we do it right? Did we do it well?
There is no one way to be the perfect parent. But there are a hundred ways to be a great parent. This hilarious, engaging little book is packed full with great ideas to help any really really busy parent find that extra minute, to enjoy their kids and to make the very most of every precious moment. Within these few pages are ideas strategies and principles that can revolutionise not only the way we parent, but also the way we feel about our parenting.
(For more information on this book click here.)